The time they refused to pack up my luggage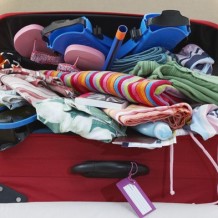 The time an agent refused to pack my luggage back up, and I went Alex Jones on her.
Until the day the TSA gets destroyed in court, our airport victories will be token ones, our triumphs merely symbolic.
Put another way: all we can do is mess with them, cooperate minimally, and verbally abuse them. Done and done.
As covered repeatedly on this site, carry on luggage for those on The List is subject to a massive rip-everything-apart-and-spread-it-all-over-the-place scrutiny. And about 20% of the time, they don't pack it back up.
When that happens, and they say something like "Ok, you're all done," I say something like: "We're not all done. Pack up my bag." Token resistance, but those of us on The List have to maintain fragments of our dignity wherever we can.
Then I flew out of Vegas and I met my match
"We're not done."I said. "Pack up my bag."
"Not my job sir."
"I'm not going anywhere until you pack up my bag."
She stood there.
This is where I go into verbal-destruction-mode, every time.
"Have some respect for your own job and pack my bag."
Silence.
"You're hated enough by American citizens. Don't make it worse. PACK UP MY BAG."
Then I really went Alex Jones on her. I'll spare your ears. It was a scene.
She walked off. I crossed my arms and stood my ground.
"Someone is packing my bag."
A minute ticks by.  I'm making hard eye contact with every agent in eye-shot and yelling:
"Someone is packing my bag."
The agent on "good cop" duty finally came over, halfheartedly stuffed the clothes back in my backpack, and walked away.
I passed the woman on my way out.
"I get to go to the beach now. Enjoy your pathetic job."
Watch out for the blond woman at McCarren who looks like  Zelda Rubinstein. She has no manners.