What a terrorist's airline ticket looks like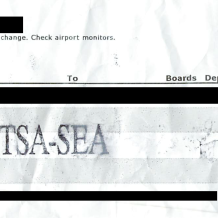 I've done a lot of talking about the "SSSS" on the boarding pass that denotes a traveler as a security threat, but I've never posted an image.
Every airline has a different layout, but here is a sample of one of my tickets, from Alaska Airlines:
Note the "SSSS" in two places.
The TSA stamp is how the ticket-taker at the gate knows that you've been "properly screened" and that you're "cleared to board." Consistent with the TSA having no consistency and being a completely confused, disorganized mess who makes everything up as they go, the TSA stamp is different at every airport. And often there is no stamp – just scratched initials and a round hole punch.
This is what "security theater" looks like: The only thing the prevents the otherwise safe airways from being populated with misdemeanor terrorists with 10-year-old property crimes and boarding with switchblade combs are scratched initials that could be accomplished by your 5-year-old nephew, and a hole punch purchased at Staples for $4.
Feel safer? I would, except I'm the one they're trying to protect you from and I think I'm pretty cool, so not really.